Joust
Our jousting demonstration sees our knights and horses go head to head in competition to see who can get the best breaks of the lances. The goal is not to hit the knight or the horse, but to hit the shield causing the lance to shatter. Full of pageantry and colour, the joust is a sight to behold.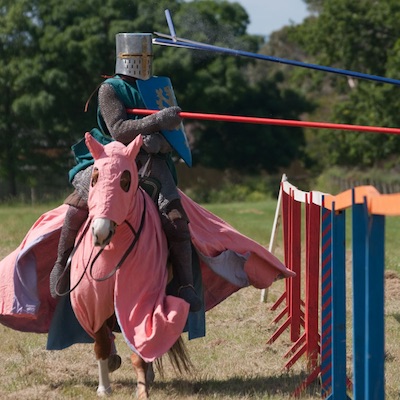 Skill at arms
The skill at arms performance showcases both horse and riders' expertise, with several weapons being utilised in an array of activities. It can be demonstrated in either civilian clothing or full armour for extra difficulty.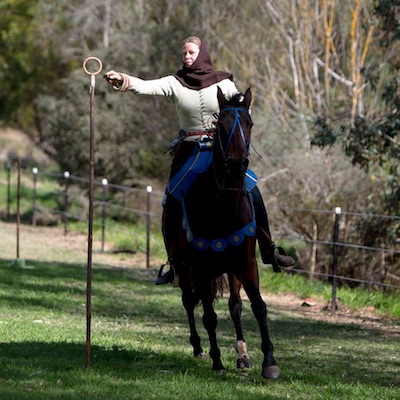 Hunting games
Knights loved to go hunting, but with the lack of forest or suitable animals to hunt, we have opted for something a little different. Our riders have to hit targets from horseback, using different weapons. No, our valets are not the targets!
Arming of Man and Horse
This is one of the most popular and informative displays. It shows our knights getting armoured from the undergarments up, as well as the preparation of the horses, from grooming, to saddling, and their barding too.
Historical Martial Arts
Many of our members, including our knights, train very diligently in the martial arts that were practiced in Medieval Europe. We are able to showcase some of the techniques seen in historic fencing manuals. See our knights and squires using swords, daggers, wrestling or fighting with pole weapons.
Camps and crafts
King's Horses are very happy to provide a complete Medieval encampment display. Whilst resting between formal demonstrations, our gentle and friendly horses are happy to receive pats and pose for photos. Our knowledgeable team are happy to answer any questions people (especially children), may have about medieval life and horsemanship. Our members are very proud of the high standard of accuracy and authenticity portrayed within our group, and it is a feature of our displays and encampment, the idea that we have stepped out of a manuscript and come to life.